VOLVO Diesel Power Generator 120kW/150kVA,3Phase,powered by TAD731GE,Strong power,factory OEM price.
Genset Main Technical Data:
Genset Model

SRT165VS

Prime Power(50HZ)
120kW/150kVA
Standby Power(50HZ)
132kW/165kVA
Frequency/Speed
50Hz/1500rpm
Standard Voltage
220V/380V
Voltage Available
230V/400V; 240V/415V
Phases
Three phases
Reaction for frequency and voltage @ 50% load
in 0.2 S
Regulation accuracy

adjustable,normally 1

%

Noise  level
65dBA in 7M and 80dBA in 1M
(1) PRP: Prime Power is available for an unlimited number of annual operating hours in variable load applications, in
accordance with ISO8528-1. A 10% overload capability is available for a period of 1 hour within 12-hour period of
operation. In accordance with ISO 3046-1.
(2) ESP: The Standby Power Rating is applicable for supplying emergency power in variable load applications for
up to 200 hours per year in accordance with ISO8528-1. Overload is not allowed.
Engine Data:
Manufacturer
VOLVO
Model

TAD731GE

Engine speed
1500rpm
--------------------Prime power
132kW
--------------------Standby power
145kW
Type
6 cylinder Diesel L type 4-stroke
Aspiration
Turbocharged and air-cooled charge air
Bore * Stroke
108*130mm
Displacement
7.15L
Compression ratio
18

:

1

Oil Capacity
20L
Lube Oil
CH15W-40
Fuel Type
0#
Fuel Consumption 100% load (L/H)
36
Alternator Data:
Model

UCI274F

Prime power
128 kW/160 kVA
Standby power
140 kW/176 kVA
AVR model
SX460
Number of phase
3
Power factor (Cos Phi)
0.8
Altitude
≤ 1000 m
Overspeed
2250Rev/Min
Number of Pole
4
Insulation class
H
Voltage regulation
±0.5%
Protection
IP 23
Total harmonics (TGH/THC)
< 4 %

Wave form :

NEMA = TIF

< 50

Wave form : 

I.E.C. = THF

< 2%
Bearing
single
Coupling
Direct
Efficiency
84.9%
Silent Type Diesel Gensets Specification:
◆ Original VOLVO diesel engines,
◆ Stamford brand brushless alternators,
◆ LCD control panel,
◆ CHINT breaker,
◆ Batteries and charger equipped,
◆ 8 hours fuel tank base,
◆ Sound attenuated canopy with residential muffler and exhaust bellows,
◆ Anti-vibration mountings,
◆ 50℃ Radiator c/w Piping Kit,
◆ Parts book and O&M Manual,
◆ Factory test certificate,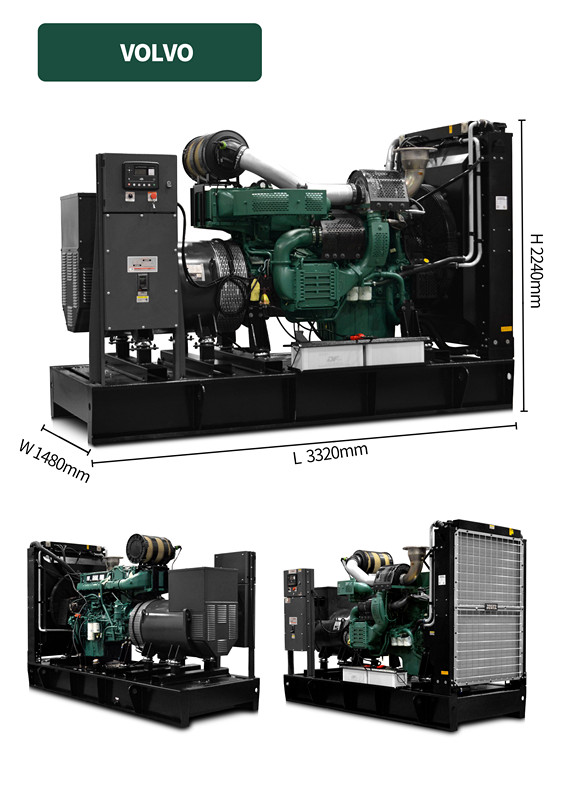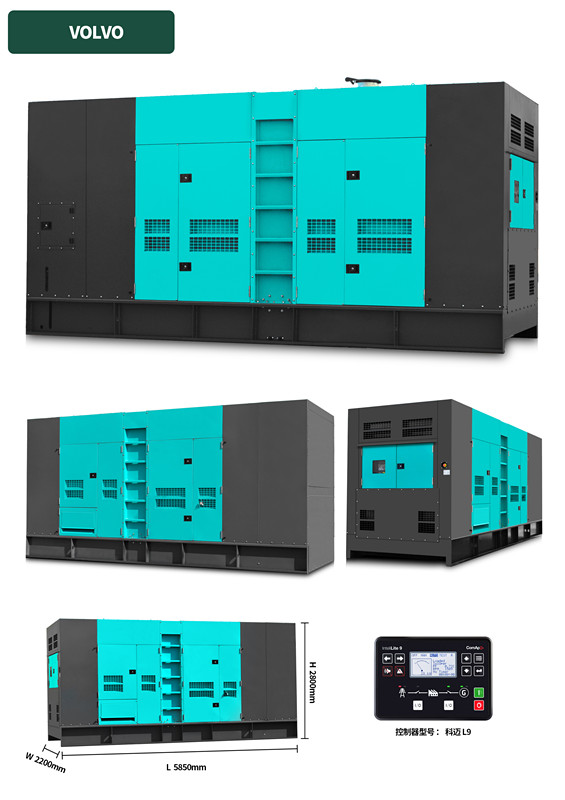 SOROTEC Generator Key Features
1) Silent Canopy thickness at least 2.0mm, special order use 2.5mm. The canopy adopts a holistic disassembly structure with large size doors to assure the convenience for daily check and maintenance.
2) Heavy-duty fabricated steel based frame with built-in fuel tank for at least 8 hours continuous running. Environmental-friendly fully bunded base fuel tank assures no oil or coolant spills onto the ground for Australian market only.
3) By shot blasting treatment, High quality outdoor electrostatic powder coating and 200℃ oven heating, ensure the canopy & base frame strictly protect against rusty, mellow, fastness and strong anti-corrosion.
4) Sound absorbing material use 4cm thickness for silent foam, 5cm high density rockwool as optional for special order request.
5) 50℃ radiator is available for Southeast of Asia, African and tropics area
6) Water heater and oil heater for cold weather countries, tested with coolant.
7) Complete set mounted on a based frame with anti-vibration mountings.
8) Customized built-in high performance residential muffler minimizes the noise level
9) Based frame designed with fuel, oil and coolant drain cocks for easy maintenance.
10) 12/24V DC electric start system with free maintenance battery & smartgen brand battery charger.
11) Genset with 304# stainless steel screw, door locks and hingles.
12) Top lifting points, forklift pockets and eyelets as standard feature
13) External lockable fuel inlet with electrical fuel gauge as standard feature
14) Genset manuals, test report, electrical diagram before packing.
15) Wooden packaging, Carton packaging, PE film with hard paper corner protector.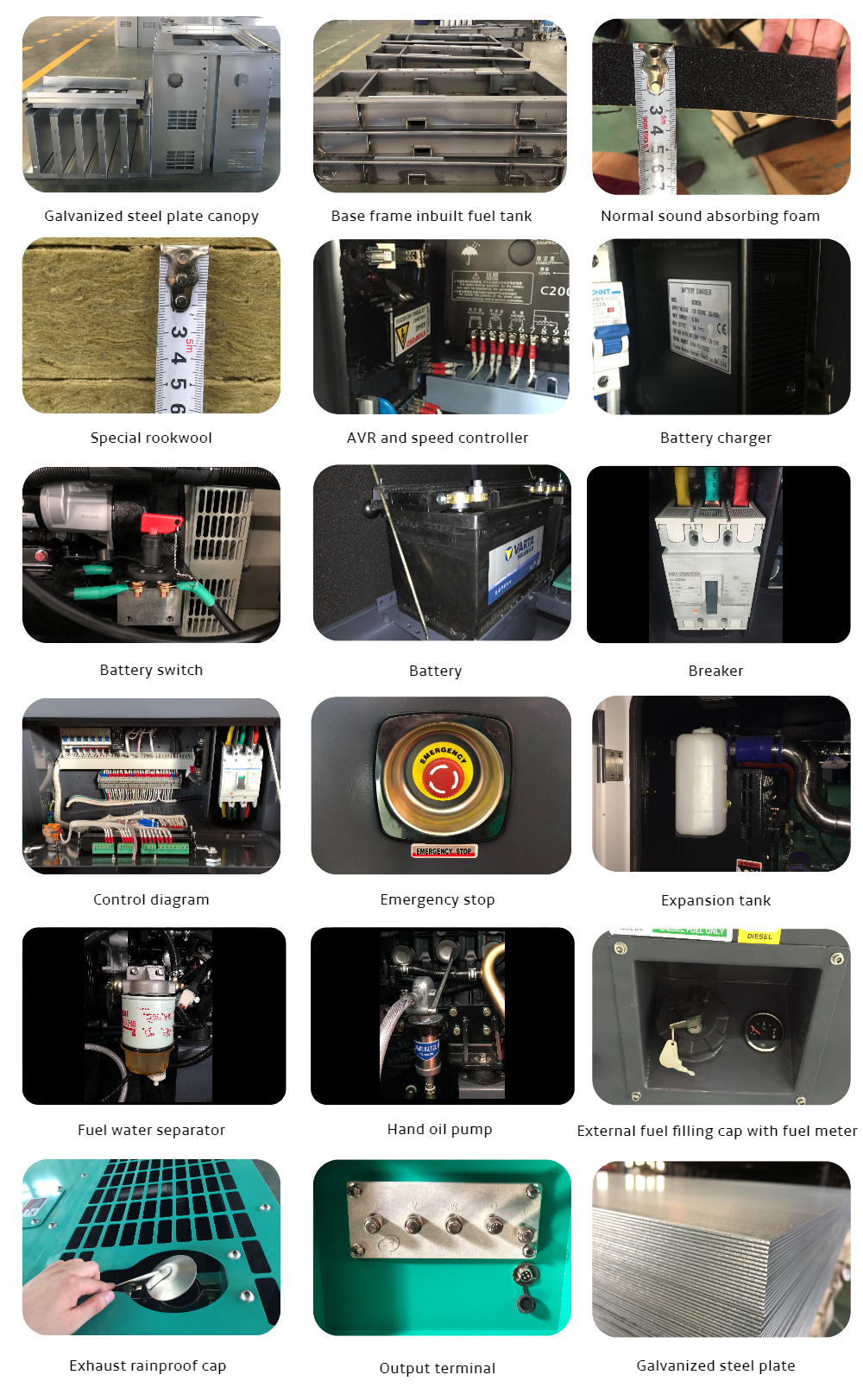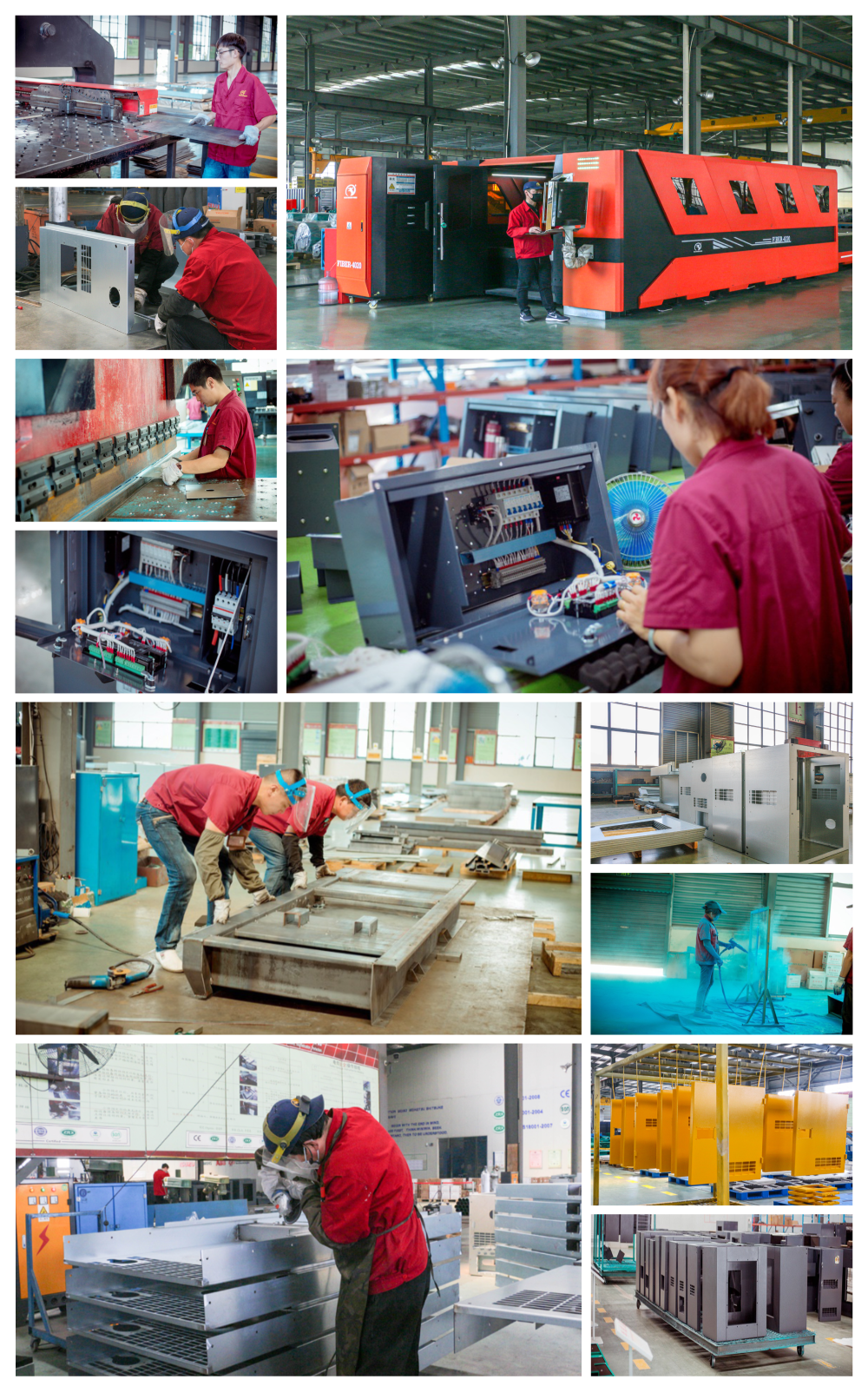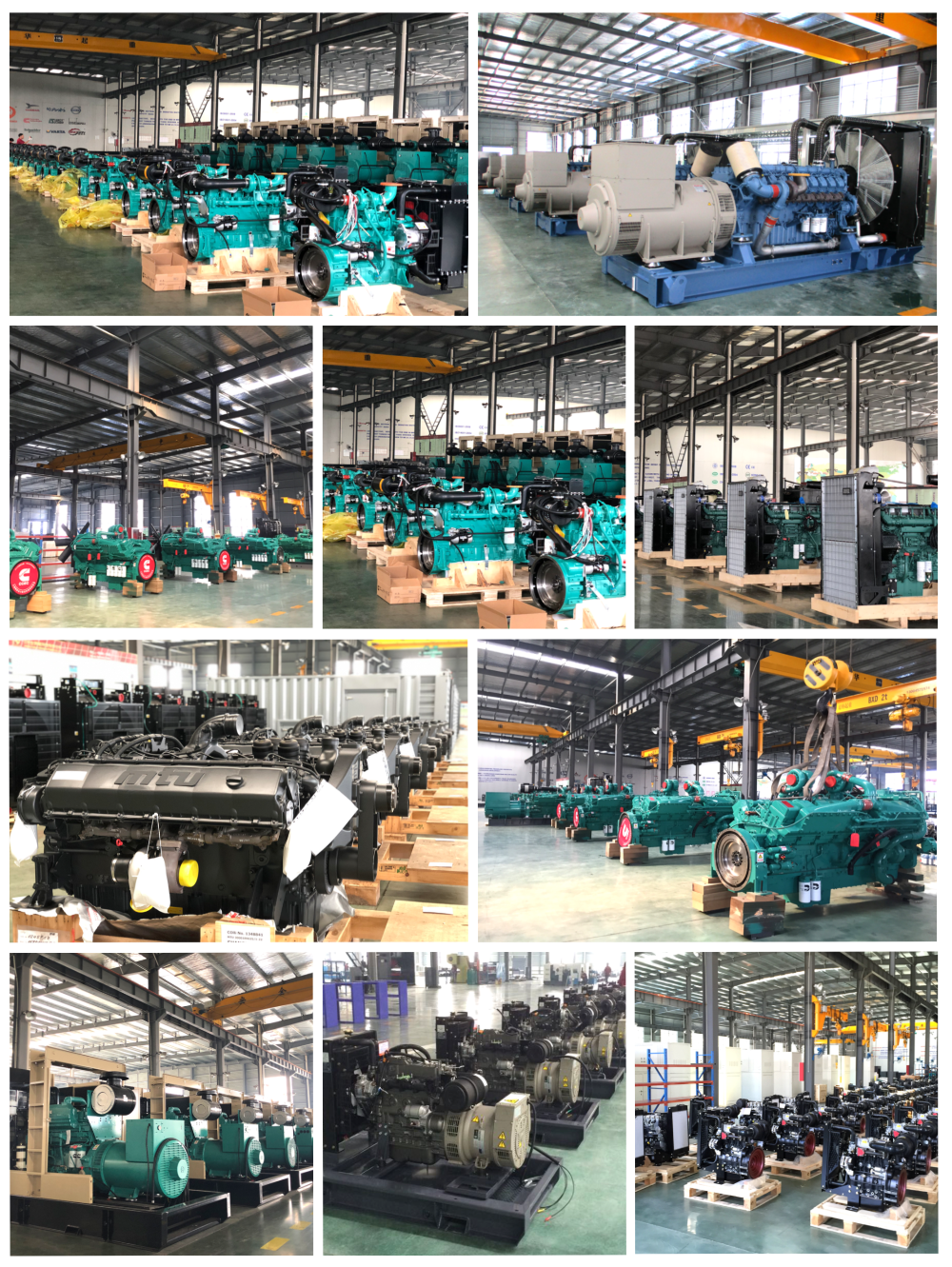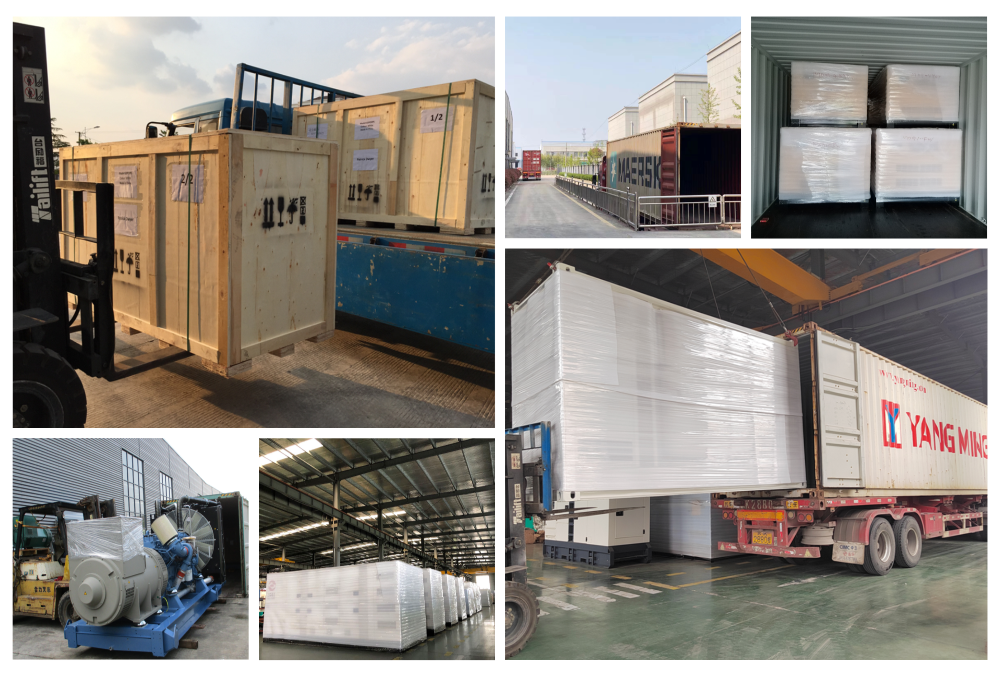 ---
Previous:
VOLVO Diesel Power Generator 150kW/188kVA,3Phase,powered by TAD732GE,Strong power,factory OEM price.
---